August 2014
At the age of seven I started to desire to become a racing cyclist – for the simple
reason that there was a cycling club a few hundred meters away from my home
and I felt very attracted to the boys and girls with their brightly polished bicycles.
It was only allowed to join the club at the age of eight and it was hard to abide
the months until then. To be honest I spent a lot of time at the club talking to
the guys in hope someone would see us together and that my own bike – custom
made by my father – could impress them.
After becoming a member of the club, cycling became a real obsession to me,
even though I was never really good at it, due to the lack of a compatitive nature.
But there is something it has in common with sound recording: it is mediative.
I always enjoyed to cycle through the landscpape (at this time there were just
a few cars in the GDR, one could easily ride for an hour or so without
encountering one of them), just enjoying the impressions and letting my
thoughts run wild.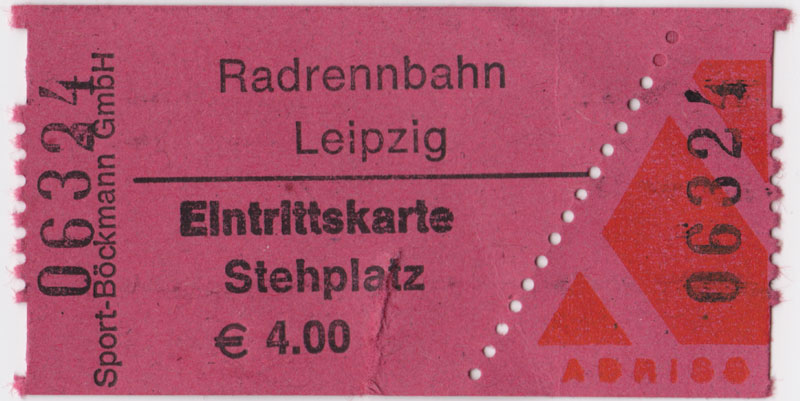 Leipzig
– where I live – has an old open air
velodrome
and from time to time
there are even races.
Last weekend, there were the german motor-paced racing championships.
At first glance this is quite the opposite of what I've described above but I was
tempted to find out if I could enjoy the combination of cycling and heavy
noise made by the pacemaker's motorcycles.

At the end I spent two afternoons there and made sound recordings of all races
and some atmosphere recordings of the location an hour before the first race.
It was a great expierience and as expected I could feel my heart beating faster
not only despite to the higher stresslevel caused by the noise of the motorcycles.
PFR10155, 140809, German motor-paced race championship finals,
Radrennbahn, Leipzig, excerpt, mix